Zbliżają się święta. Gorączka świątecznych zakupów nabiera tempa. Jeśli zastanawiasz się, co kupić swojemu partnerowi, który pasjonuje się fotografią, a zakup fotograficznego ekwipunku wykracza znacznie poza Twój budżet, ten tekst jest dla Ciebie.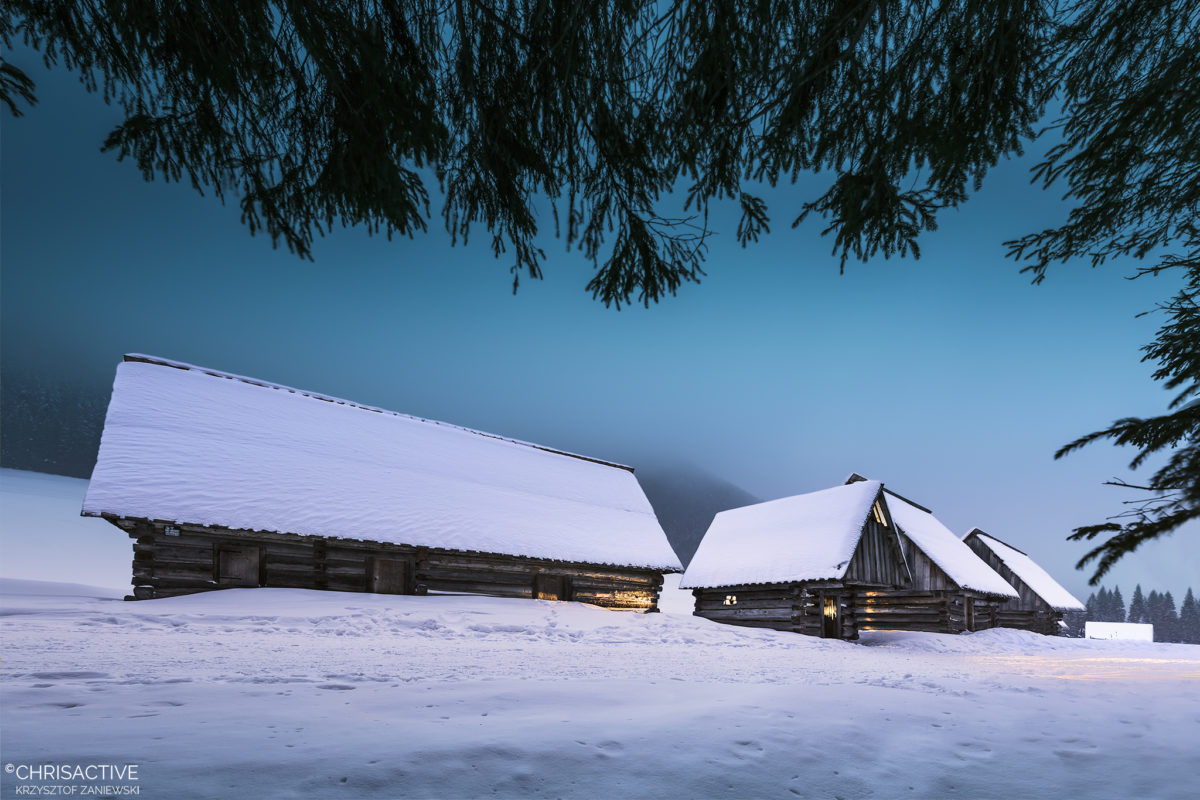 Jest bardzo wiele gadżetów, które mogą się przydać fotografowi. Dotyczyć one mogą zarówno akcesoriów fotograficznych, elektroniki, odzieży czy aspektów logistycznych. Dobrze trafione potrafią ucieszyć nie mniej niż najnowsze model obiektywu, pasujący do jego/jej aparatu. Poniżej przedstawię 10 pomysłów. Zaczynamy.
DYSKI ARCHIWIZACYJNE / DYSKI ZEWNĘTRZNE / CZYTNIKI KART PAMIĘCI
W zależności od budżetu rozpiętość jest wielka. Od dużych macierzy robiących automatyczne kopie zapasowe projektów po małe dyski zewnętrzne. Tych drugich zazwyczaj nigdy za wiele. Sam używam ich bardzo dużą ilość, a potrzeby na nie praktycznie nigdy się nie kończą. Począwszy od małych dysków HDD o pojemności 1-2 TB po droższe, mniej zawodne, szybsze w odczycie i zapisie danych dyski SSD. Kiedy to piszę, przede mną leży kilka takich dysków, co świadczyć może, że taki prezent na pewno będzie wykorzystany. Ja w większości używam dysków marki WD. Kolejna sprawa to czytniki kart pamięci. Obecnie fotografowie korzystają zazwyczaj z trzech rodzajów kart – CF, SD i mini SD. Na rynku są czytniki posiadające sloty na wszystkie te karty razem. Będzie więc to praktyczny prezent, używany na bieżąco w domowym studio jak i w terenie.
2. TERMOS
Termos to akcesorium turystyczne, które jak najbardziej wpisuje się w świat fotografa. Co,jak nie ciepły napój pokrzepi bardziej zmarzniętego fotografa, stojącego gdzieś przy aparacie w górach czy nad wodą. Obecnie większość firm z czołówki outdoorowej produkuje przyzwoite termosy, a ich jakość utrzymywania temperatury płynów w czasie jest porównywalna. Tutaj moja mała porada, która może zaważyć o tym czy gorąca herbata wystygnie w momencie kiedy najbardziej jej będziemy potrzebować, czy przetrwa cały mroźny dzień, a nawet dłużej. Podczas wyboru kierujmy się dwoma kryteriami. Po pierwsze wybierajmy termosy zakręcane, a nie wciskane typu "one touch" Te drugie mimo, że łatwiejsze w użyciu wytracają szybciej ciepło poprzez nieszczelność tego systemu. Termosy zakręcane nie mają takiego problemu. Tutaj kolejna porada – podczas odkręcania termosu z gwintem odkręćmy korek tylko trochę – tak by płyn lał się po gwincie do kubka. Zapobiegnie to przedostawaniu się chłodnego powietrza do termosu i zwolni proces obniżania się temperatury płynu. Proponuję pojemności ok.0,5 l. Gwarantuje, że jeśli termos będzie większy, a fotograf stanie przed wyborem – albo termos albo dodatkowy obiektyw- wybierze to drugie.
3. AKCESORIA DO TRANSPORTU SPRZĘTU FOTOGRAFICZNEGO
By powyższa groźba zostawienia termosu się nie ziściła, warto przemyśleć sprawę logistyki czyli np. akcesoriów do transportu sprzętu foto. Możemy zastanowić się nad plecakiem czy dodatkowymi case-ami mocowanymi na zewnątrz plecaka. Tutaj warto zrobić małe rozpoznanie, które zajmie niewiele czasu i można to zrobić bez ryzykownego podpytywania osoby, którą chcemy obdarować.
Pierwsza kwestia – czy fotograf lata samolotami?
To ważne w kontekście pojemności i rozmiarów plecaka. Większość fotografów nigdy się nie zgodzi oddać sprzęt fotograficzny do luku (prędzej sami tam się zamkną). Plecak więc musi spełniać wymiary bagażu podręcznego jak i trzymać wagę ustaloną przez przewoźnika. Od dawna używam i testuję torby i plecaki marki Tenba. Co w kontekście lotniczym mogę polecić? Na pewno model Solstice 24 l. Trzyma wymiar, a do tego jest super lekki, co daje możliwość dopakowania większej ilości sprzętu. Być może dobrym prezentem będzie dodatkowa foto-torba wnoszona jako drugi bagaż na pokład samolotu jak model Messenger DNA 13 lub 15?
Druga kwestia – ile nosi sprzętu?
Jeśli widzisz u niego/u niej problem z pomieszczeniem sprzętu, warto zastanowić się nad większym plecakiem lub nad doczepianymi akcesoriami. Co się w moim przypadku sprawdza? Na pewno doczepiane tuby na obiektywy z serii Tools Lens Capsule lub wrapy ochronne Protective Wrap. A jeśli twój fotograf jest bałaganiarzem lub ma milion mniej lub bardziej potrzebnych gadżetów, wybierz jeden z organizerów z serii Tools Cable Duo. Plecak, który posiada dużą możliwość doczepienia akcesoriów, to model z serii Axis Tactical. Natomiast jeśli jesteś dziewczyną, która lubi podbierać rzeczy facetowi, zerknij na model Fulton. Zapewne po rozbebeszeniu z wewnętrznych przegródek udasz się z nim na miejskie zakupy.
Mam dla Was świąteczny rabat 10% na wszystko w sklepie Tenba.pl. Kod rabatowy: Tenba10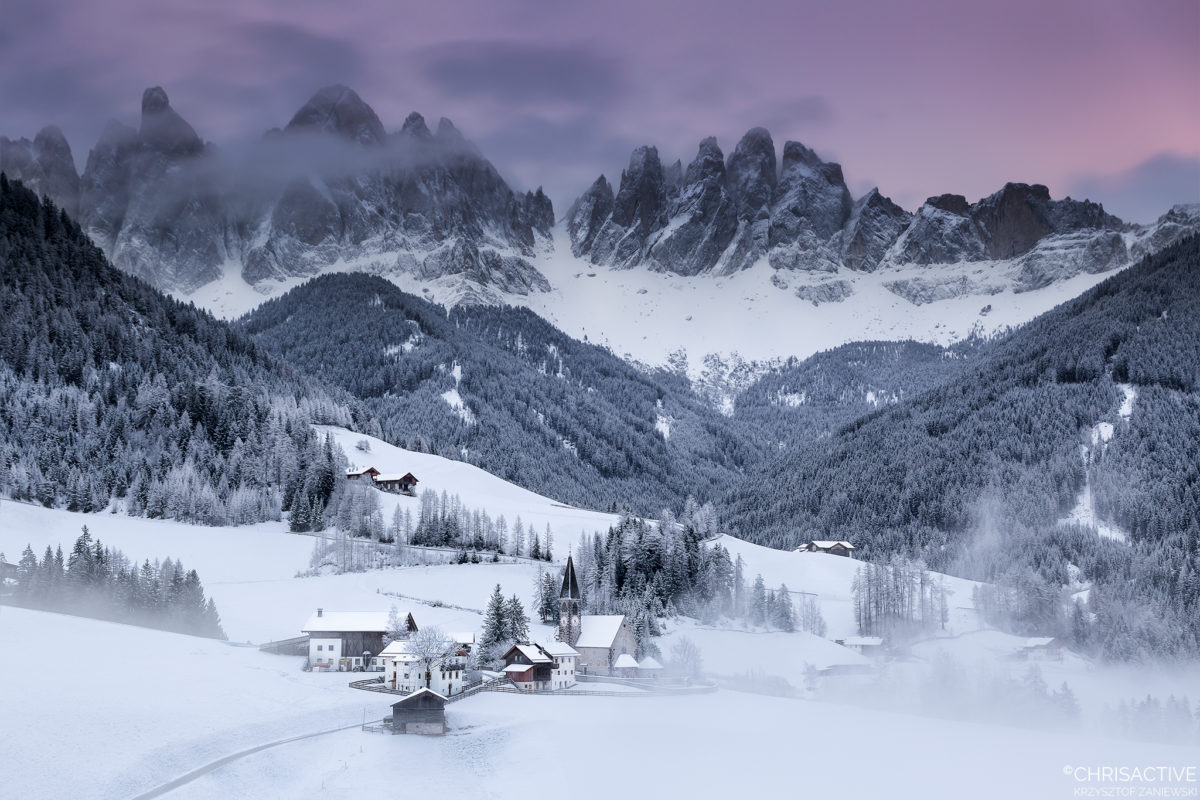 4. Bilety lotnicze
To jest jedna z rzeczy, którą ja lubię dostawać najbardziej w ostatnim czasie. Jeśli Twój fotograf lubi odwiedzać nowe miejsca z aparatem, bilet lotniczy będzie wymiatał a on/ona od razu zacznie snuć plany fotograficzne w danym miejscu. Jeśli lubi góry, poszukaj regionów z górami – kraje alpejskie czy Szkocja, a może Islandia. Jeśli jest miłośnikiem architektury, Włochy możesz brać w ciemno. Pamiętaj przy zakupie biletu o informacjach w punkcie 3, gdzie omawialiśmy ilość sprzętu foto.
5. RĘKAWICZKI
Tych również nigdy za dużo. Proponuję najlepiej dwie pary. Zewnętrzne rękawiczki ciepłe. Mogą być softshellowe, z membraną lub jakieś z klimatem np.wełniane. Strategiczną warstwą będą te cieńsze przy ciele. Dlaczego? Operowanie przy sprzęcie foto wymusza czasami ściągnięcie rękawiczek. Gdy mamy pierwszą warstwę cieniutkich, palce fotografa nigdy nie zetkną się z zimnym żelastwem, parzącym w dłonie. Po takim kontakcie bywa i tak, że jest problem z odzyskaniem ciepłoty w palcach, nawet gdy potem założymy na dłonie wszystko co mamy.
Mam dla Was świąteczny rabat 10% na rękawiczki w sklepie Aktywny Turysta. Kod rabatowy: FOTO.
https://aktywnyturysta.pl/kategoria-produktu/odziez/odziez-meska/rekawiczki-odziez-meska/
6. KURTKI
Kurtki to kolejna sprawa, warta zauważenia. W zależności od potrzeb, przydatne kurtki możemy podzielić na przeciwdeszczowe, ocieplane i chroniące przed wiatrem.
Cienkie, lekkie kurtki z powodzeniem zmieszczą się do plecaka jako dodatkowa warstwa, gdy zacznie padać, a także nic nie ważą w pakunku lotniczym. Softshelle to materiał chroniący przed wiatrem i lekko opierający się deszczowi. To także niewielkie w wadze kurtki o wszechstronnym zastosowaniu w podróży czy na plenerach fotograficznych. Ciepłe swetry puchowe czy grube kurtałki to już z przeznaczeniem na konkretne mrozy. Popatrzcie na kieszenie czy są duże i obszerne bo fotografowie na plenerach lubią w nie wpychać akcesoria foto, jak dekle od obiektywów, baterie, gdy trzeba je chronić przed zimnem, czy przechowywać jakieś przekąski.
Mam dla Was świąteczny rabat 10% na kurtki w sklepie Aktywny Turysta. Kod rabatowy: FOTO.
Softshelle
https://aktywnyturysta.pl/kategoria-produktu/odziez/odziez-meska/softshelle-odziez-meska/
Kurtki
https://aktywnyturysta.pl/kategoria-produktu/odziez/odziez-meska/kurtki-odziez-meska/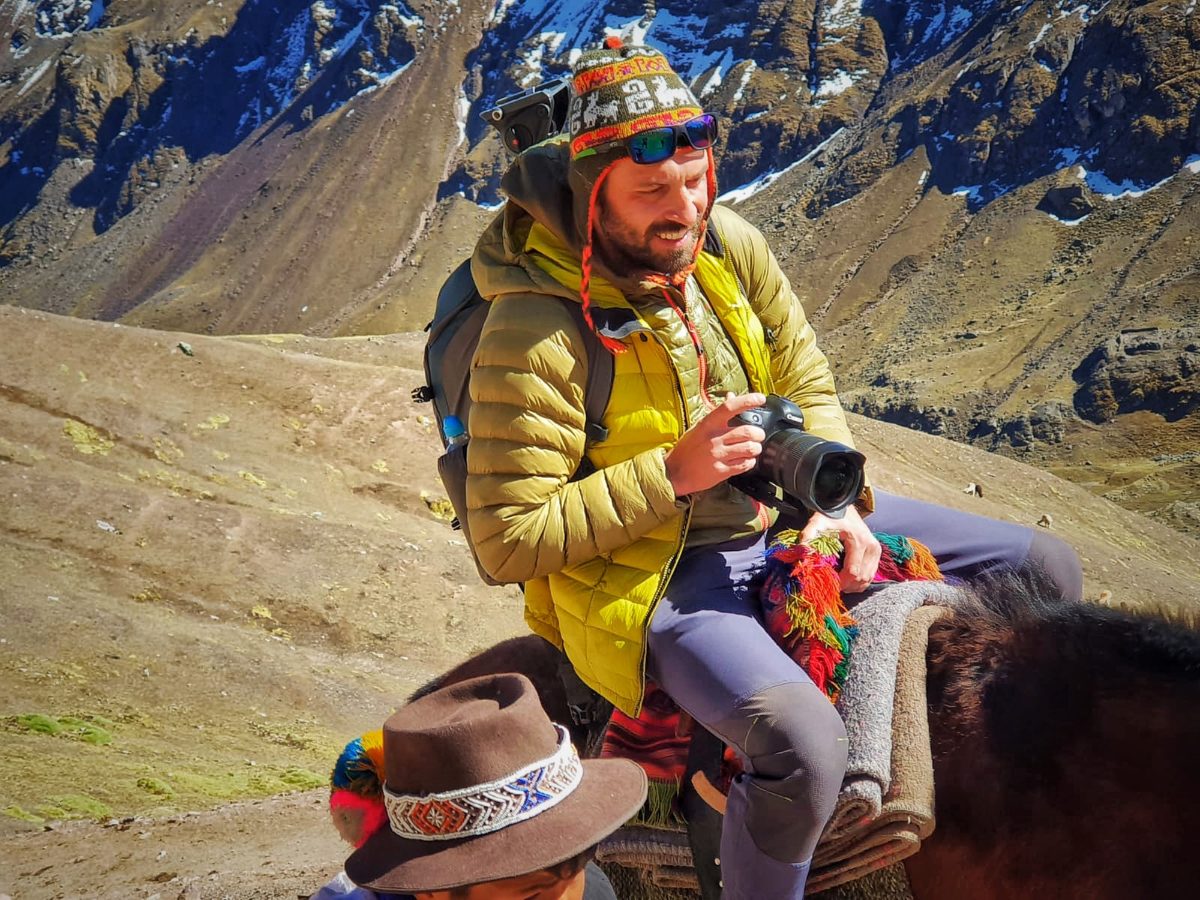 7. CZOŁÓWKA
Czołówka, dla niewtajemniczonych, to latarka umieszczana na głowie. Wykorzystywana we wszystkich aspektach działalności, gdzie jest ciemno, a potrzebujemy wolnych rąk. W tym wypadku kierując się ceną, musimy mieć na uwadze jedną kwestię. Nic po czołówce fotografowi, jeśli nie będzie miała możliwości przełączenia się na czerwoną lampkę. Świadomi fotografowie operują po zmroku, przy nocnych zdjęciach przy czerwonym spektrum światła. Działa ono mniej destruktywnie na realizowane zdjęcia, a także nie przeszkadza innym fotografom, jeśli takowi są w pobliżu.
8. BIELIZNA TERMOAKTYWNA
Podobnie jak rękawiczki czy czapka, bielizna termoaktywna w mroźne dni, to podstawa dla fotografów pracujących w plenerze. Zarówno na nogi jak i na korpus ocieplina tego rodzaju, nawet gdyby była kolejną w kolekcji bardzo się przyda. Przecież to bielizna, więc większa ilość sztuk jest bardzo pożądana.
9. POWERBANKI
Energia, energia, energia. Jak często jej brakuje w plenerze. Powerbanki zarówno takie podstawowe, którymi naładujemy telefon jak i większe stacje z zasilaniem solarnym, to idealny pomysł na prezent. W tańszych wersjach naładujemy telefon, w droższych baterie do aparatu czy laptopa. Ja osobiście takiej dużej stacji nie mam, ale nigdy bym nie pogardził.
10. RZECZY BEZCENNE
Tej rzeczy nie da się kupić za pieniądze, bo walutą jest serce. Spędź z nim czas w plenerze, zainteresuj się jego/jej pasją. Naucz się, co to jest złota godzina, co to ISO, czas naświetlania czy przesłona. Popatrzcie razem w budowany przez niego kadr. Naucz się doceniać to, co Twój fotograf widzi, delektujcie się wspólnie chwilą patrzenia w horyzont. Gwarantuję Ci, że nigdy tego nie zapomni.
DOSTĘPNE SĄ MOJE KALENDARZE
Dostępny jest mój kalendarz na rok 2020. Może być świetnym dodatkiem do prezentu lub prezentem samym w sobie. Mam nadzieję, że zdjęcia w nim zawarte zainspirują do odwiedzenia nowych miejsc i spróbowania swoich fotograficznych sił w plenerach, które ja lubię. Dostępna jest także opcja zakupu kalendarzy w dwupaku.
---