Basilicata to region czysty od wszędobylskiej turystyki Włoch. Tu możesz robić zdjęcia do woli, bez tłumów fotografów.


Basilicata kusiła mnie już od dłuższego czasu. Znajdujący się na samym dole włoskiego buta region, jest miejscem bardzo słabo zaludnionym. Liczy ok 600 000 mieszkańców, a tendencja jest wciąż malejąca poprzez odpływ mieszkańców w rejony lepiej rozwinięte na północy kraju. Znajduje się tu jednak kilka ciekawych miejsc, wciąż nieskażonych przez turystykę, gdzie możemy poczuć jeszcze prawdziwe Włochy. Niedawno pisałem o tym jak sobie radzić z fotografią przy tłumach turystów – w tym tekście takiego problemu nie będzie. Basilicata to wciąż region nieodkryty i nie doceniony na miarę tego, co oferuje. Wykorzystajmy ten fakt i przenieśmy się w to wspaniałe miejsce.
Jeśli jeszcze nie śledzicie mojego Instagrama, zapraszam gorąco do moich wyróżnionych relacji z Basilicata 1 i Basilicata 2.
Jak się dostać?
Jeśli nie robicie tripu po całych Włoszech autem, najlepszym rozwiązaniem jest przelot samolotem do miejscowości Bari. Bari leży nad Adriatykiem w regionie Apulia. Na lotnisku radzę wypożyczyć auto, gdzie drogą SS96 a potem SS99 przedostaniemy się do Basilicaty. Trasa jest stosunkowo krótka, bo już po około jednej godzinie jazdy możemy dotrzeć do najbardziej znanego miasta regionu – sławnej Matery. Do samej Matery można dojechać pociągiem z Bari. Lecz zdaje się na tym mieście kończy się możliwość podróżowania koleją do miejsc, o których będę wspominał.
Matera
Mimo, że Matera jest najbardziej znanym miastem w regionie, na pewno nie wszyscy o nim słyszeli. Większość turystów wyjeżdża na północ Włoch, ewentualnie do Rzymu czy na wybrzeże Amalfi. Tymczasem jest to chyba najpiękniejsze miasto, jakie fotografowałem. W dodatku z niezwykłą historią.
Początki Matery sięgają czasów osadnictwa jaskiniowego. Stąd mówi się, że jest to jedno z najstarszych miast świata. W latach pięćdziesiątych miasto było siedliskiem ubóstwa i najróżniejszych chorób m. in. malarii. Włoskie władze zaczęły wysiedlać rodowitych mieszkańców i dopiero w latach osiemdziesiątych ubiegłego wieku podjęto rewitalizację miasta, a ludzie zaczęli z powrotem napływać w te okolice. O historii miasta możecie przeczytać w książce "Chrystus zatrzymał się w Eboli". Dobrze, że w pewnym momencie uświadomiono sobie fakt, że Matera to nie tylko największe slamsy Włoch, gdzie umieralność dzieci sięgała 50%, ale też dziedzictwo kulturowe. Dziś miasto jest w fazie rozkwitu na nowo i wpisane jest na listę Światowego Dziedzictwa UNESCO. Nosi jednak ślady wysiedlenia, gdyż wiele domostw jest wciąż zamurowanych i opuszczonych, wciąż czekających na swoich nowych właścicieli. Stara Matera ma zabudowę tarasową. Chodzi się tu schodkami pomiędzy domostwami. W nich znajdziemy pensjonaty, hoteliki i urocze restauracje zatopione w skale. Nic dziwnego, że Mel Gibson wybrał sobie akurat to miasto na kręcenie filmu "Pasja".
Gdzie fotografować?
Właściwie można odpowiedzieć, że wszędzie. Gdzie nie spojrzymy, stara część miasta obfituje w ciekawe uliczki i przepiękne panoramy. Ja szczególnie sobie upodobałem kadr z tarasu widokowego nad Church of Saint Peter 'Barisano'. Nie spotkamy tu plagi turystów czy morza fotografów. Zwłaszcza poza sezonem. Ja odwiedziłem miasto w październiku i na wybranych przeze mnie spotach fotograficznych byłem sam. To niesamowite uczucie chłonąć tak wspaniałe widoki o poranku w zupełnej samotności, przy akompaniamencie wszędobylskich dzwonnic.
Mniej oczywiste miejsce na fotografowanie znajduje się po drugiej stronie Wąwozu Gravina. Dostaniemy się tutaj autobusem lub samochodem po zaparkowaniu w miejscu Belvedere su Matera e Sassi. Jest to punk widokowy z rozległą panoramą na miasto. Jednak nie to nas interesuje. Trzeba znaleźć drogę na skraju wąwozu i trawersując w ścianie znaleźć jaskinie. Najlepiej wypatrzeć je już z miasta. Wtedy będzie łatwiej potem je odszukać. Odnajdziemy tu piękne grupy jaskiń czy raczej wielkie wnęki. Niektóre nawet o kubaturze zbliżonej do małego kościoła. Z tych najciekawiej położonych widać bardzo dobrze miasto. I tu kolejne, niemal mistyczne doznania czekają na odwiedzających. Zwłaszcza gdy się fotografuje wieczorem. Dźwięk migawki rozchodzi się echem po skalnej katedrze, mrok zagląda od wejścia do jaskini a za nim w tle błyszczy się złotymi światłami Matera. Bajka nad bajki.
Matera to najpiękniejsze miasto jakie fotografowałem. Tajemnicze, z bogatą historią. Jednak przede wszystkim spójne w swoim wizerunku. To właściwie jednolita masa domostw wykutych w kamieniu i z kamienia zbudowane. Niektórzy twierdzą, że wyglądem przypomina Jerozolimę. W dobie kultury podróżowania i odkrywania coraz to nowych i nowych miejsc, Matera jest z pewnością punktem, do którego będę wracał. Pomimo, że nie jest dużym miastem, nie nasyciłem się nim nawet odrobinę.
Dolomity Lukańskie
70 km na zachód od Matery rozpościerają się Dolomity Lukańskie. Przepiękny zakątek Basilicaty widać już z daleka, z trasy szybkiego ruchu. Skalne urwiska i iglice pną się ostrymi grzebieniami wydawałoby się do nieba. Na zachodnich zboczach przycupnąły w cieniu skał dwa miasteczka – Pietrapertosa i Castelmezzano. Są tak pięknie wkomponowane w strukturę gór, że często tylne ściany domostw są litą skałą, co mieszkańcy chętnie pokazują w wynajmowanych domkach. Niestety – a może i "stety" dużej bazy noclegowej tutaj nie ma. Dlatego warto się rozglądać już wcześniej przed planowanym przyjazdem. Za to zobaczymy prawdziwe Włochy i ludzi w większości w starszym wieku, bo młodzież wyprowadziła się na północ kraju. Mieszkańcy są uśmiechnięci i życzliwi. Prowadzą swój spokojny, osiadły, nieturystyczny tryb życia. Przemierzając uliczki miast, możesz dostrzec powtarzające się schematy dnia codziennego, niezakłócone przez nic na świecie. Starsza pani, która otwiera okiennice codziennie rano o 6:15, chrząkającego ustawicznie starszego pana, co gdy wybije godzina 6 na dzwonnicy, zawsze przechadza się głównym skwerkiem miasta. Uśmiechniętych śmieciarzy żartujących sobie z siebie od samego rana. Miasteczka to oaza spokoju ulokowana w rajskim krajobrazie. Nie tylko same widoki mogą inspirować do fotografii, ale właśnie ten wspomniany klimat otwiera umysł na głębsze obszary wrażliwości i pozwala dostrzec więcej. To niby taki banał, ale naprawdę nie mamy w życiu takich chwil wiele, więc sami przed sobą powinniśmy się do tego przyznać i ten fakt docenić.
W miasteczkach oprócz wspomnianego spokoju jest też kilka atrakcji z dreszczykiem emocji. Na szczytach skał możemy zwiedzić zamki. Dla spragnionych wrażeń są dostępne eksponowane via ferraty, a wisienką na torcie jest "Lot Anioła" czyli najdłuższa w Europie tyrolka. Lina łączy dwa miasteczka. Lecąc osiąga się prędkość ponad 100 km/h a dystans to ponad jeden kilometr. W rejonie znajduje się też Park Narodowy Pollino, który jest największym obszarem objętym ochroną we Włoszech.
Sklepy jak to we Włoszech, a tym bardziej w tak małej miejscowości, otwierane są jak się tylko zachce właścicielom i nie przewidzisz kiedy trafisz na szyld z napisem "otwarte". Zasada wspominana przez lokalsów "jak przyjdzie to będzie" jest w pełni uzasadniona i potwierdzona przeze mnie. Zawsze możemy się podratować otwartą małą pizzerią tu i ówdzie.
A gdzie fotografować?
Wiadomo – wszędzie! Gęste sploty wąskich uliczek pną się po skalnych zboczach, a niemal na każdej z nich na horyzoncie pojawiają się skalne ostańce. Brak tłumów pozwala praktycznie wszędzie na spokojnie rozstawić statyw i znaleźć dogodny dla siebie kadr. Tym razem znów upodobałem sobie dwa konkretne miejsca w tym rejonie. W Pietrapertosa widok z głównej drogi na skalne grzebienie i miasto, a w Castelmezzano podobny w wymowie kadr, tym razem z rynku głównego. Polecam też widok na Castelmezzano z asfaltowych serpentyn tuż przed miejscowością. Jeśli o drodze już mowa… miasteczka dzieli w prostej lini niewielka odległość, natomiast czas przejazdu z jednej do drugiej zajmuje ok 25 min trochę na okrętkę, przez okoliczne wzgórza.
Na tym wyjeździe towarzyszyły mi dwie puszki Canona. Sprawdzony Canon 5D Mark III oraz nowy EOS 90D.
Do tej pory byliście przyzwyczajeni do moich fotografii realizowanych pełnoklatkowymi Canonami. Ciekawe jak sobie zatem poradził aparat niepełnoklatkowy EOS 90D?
Szybkostrzelny rodowód tego modelu przydaje się w sporcie czy w fotografii przyrody, bo potrafi realizować zdięcia z szybkością do 10 klatek na sekundę z pełnym wsparciem AF. Do tego filmowanie w 4K bez cropa. Natomiast w w Full HD mamy do dyspozycji 120 kl./s. Do tego płynny autofocus przy rejestracji video. Nic nie stoi na przeszkodzie, by można nim fotografować także w podróży. Sprawdzi się nie tylko jako sprzęt dokumentujący nagłe, interesujące sytuacje podczas zwiedzania odległych miast i dzikich zakątków, ale również jako wsparty na statywie aparat do krajobrazu i architektury. Świadczy o tym chociażby tytułowe zdjęcie tego tekstu – Matery. Zdjęcie zostało wykonane z jaskini, gdzie rozpiętość tonalna w kadrze jest bardzo duża. Zachowana jakość detali jest naprawdę wysoce zadowalająca, a do tego wszystkie faktury są przejrzyste i wyraźnie wyodrębnione z tła.
Za wszystko odpowiada matryca CMOS APS-C o rozdzielczości 32,5 megapiksela i procesor obrazu DIGIC 8.
Poniżej surowe zdjęcia porównawcze z obu aparatów przy ISO 100/F8/ 1/125s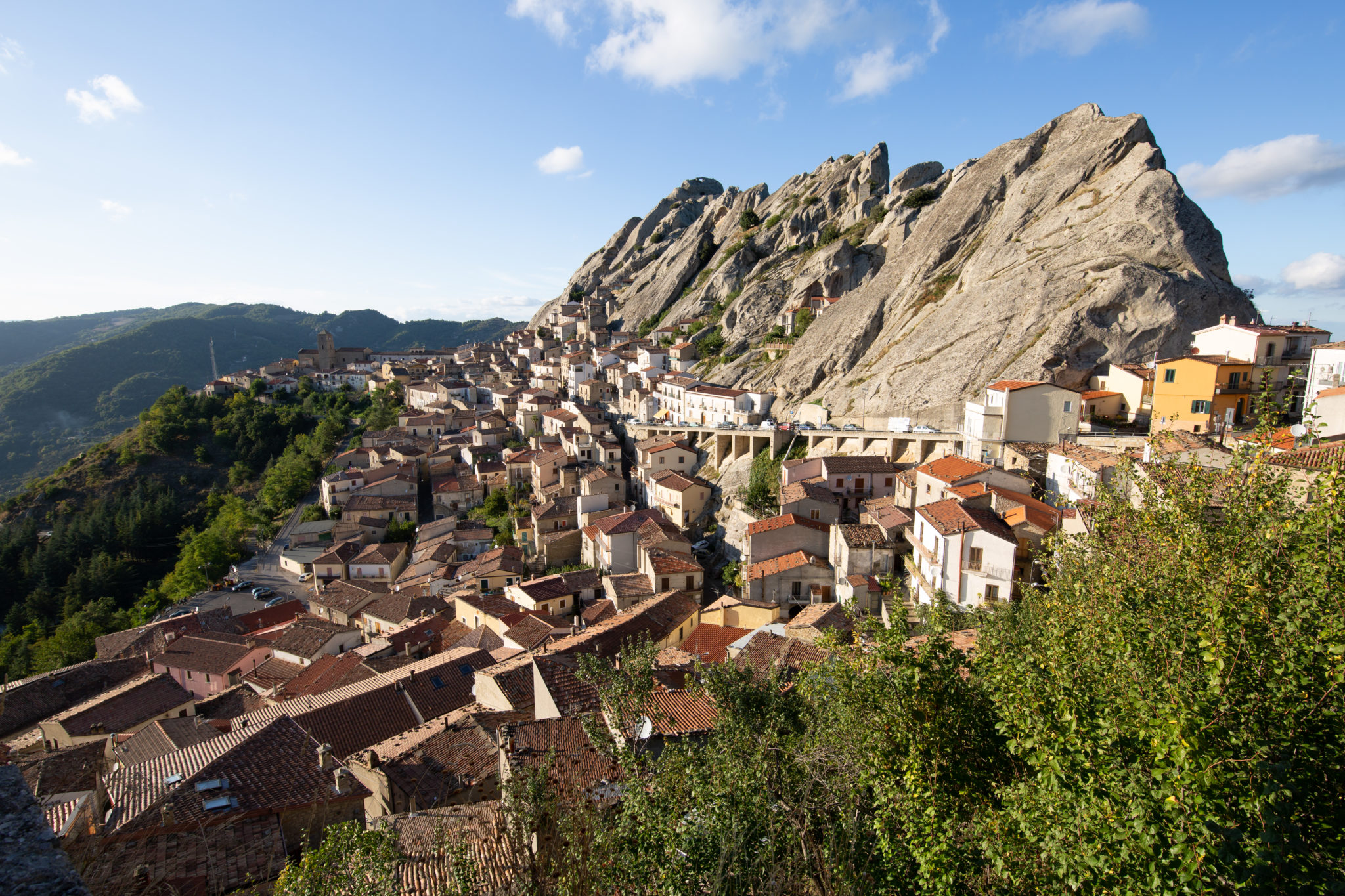 Standardowo już wspieram się aplikacją Camera Connect, która umożliwia mi wykonywanie zdjęć zdalnie, otrzymywanie podglądu prac na smartfonie, czy tworzenie kopii zapasowej na telefonie. Zwłaszcza, że mamy do dyspozycji w aparacie jeden slot na kartę pamięci. Camera Connect to świetne rozwiązanie np. wtedy gdy jest zimno, a Ty możesz schować się obok w samochodzie, zawiadując wszystkim z telefonu. Z pozycji EOS 90D możecie zawiadywać poprzez obrotowy ekran dotykowy o przekątnej 3 cali. Z drugiem strony puszki znajdziecie mocowanie obiektywu EF/EF-S (specyfikacja). Sama bateria naprawdę daje radę. Na samym wyjeździe nie wykonałem 1300 zdjęć jak podaje producent, ale bardzo długo aparat pracował w pozycji czuwania. Tutaj lepiej się sprawował niż 5D Mark III, gdzie bateria rozładowywała się (nowa bateria) prawie 2 razy szybciej. Warunki pogodowe były zmienne, od 5 do 20c. Jeśli już jesteśmy przy pogodzie, uszczelniona konstrukcja 90D sprawdziła się także podczas deszczu w Castelmezzano.
Podsumowując. Niepełnoklatkowy EOS 90D goni w możliwościach pełną klatkę. To już nie jest taka przepaść jak kiedyś, a ewentualne braki można nadrobić w postprodukcji, chociażby niedawno wydaną nową funkcją demozaikowania w Lightroom czy Camera RAW.
W tym roku Włochy odwiedziłem dwa razy. Najpierw w marcu, a niedawno na początku października. Nadal uważam, że to jeden z ciekawszych kierunków do fotografii architektury w krajobrazie. Pozostaje tegorocznym numerem 1 z siedmiu krajów, w których w tym roku fotografowałem.
Zbliżające się foto-wyprawy
Zapisz się na mój newsletter!
---