Zima potrafi zaskoczyć nie tylko drogowców, ale i fotografa. W moim wypadku zima zaskoczyła mnie pozytywnie, gdy wybrałem się na zdjęcia noworoczne w Tatry.
Standardowo moją bazą wypadową był Gliczarów Górny – tutaj od wielu lat przyjeżdzam na wypoczynek. Zaszywam się tu też gdy pracuję nad projektami. Niewątpliwą zaletą tego miejsca jest genialny widok na Tatry. Jest to swoisty "taras widokowy" na prawie całe pasmo – od Tatr Zachodnich po Bielskie. Wypracowałem sobie kilka sprzyjających mi miejscówek fotograficznych o każdej porze roku. Coraz większe opady śniegu w ciągu dnia i pełne zachmurzenie przez kilka dni w okresie sylwestrowym nie napawały mnie z początku optymizmem. Deszcz, śnieg, wiatr… i tak w kółko. Niełatwo było sie dostać na nazywane przeze mnie ramię Gliczarowa – skąd jest jeszcze bliższy widok na Tatry. Na szczęście na sezon zimowy zaopatrzyłem się w nowe gumy do auta. Zabrałem też ze sobą łopatę lawinową. Już na początku próby dostania się na to ramie musiałem z niej korzystać i odkopywać samochód, brnąc dalej w stronę miejscówki fotograficznej. Zbliżał sie Nowy Rok i próba zrealizowania zdjęcia fajerwerków na tle Tatr wymagała rekonesansu i utrzymywania lokacji w takim stanie, by można było rozłożyć sprzęt i zaparkować samochód. Miał być on na ten czas naszym domem, gdzie będziemy witać Nowy Rok. Na szczęście pojawił się pług, który się ulitował nad drogą dojazdową w niezamieszkałym jeszcze fragmencie wzgórza. Szczęście zaczęło mi sprzyjać. Wraz ze wschodem słońca, ostatnie dni grudnia dawały na kilkanaście minut szansę zrobienia zdjęcia. Tatry pokazywały się w wietrznej, ale klarownej aurze.
W wieczór sylwestrowy byłem już na stanowisku. Wokoło nikogo – tylko my we dwoje z Anią. Z wysokiej perspektywy można było oglądać szykujące się na Nowy Rok Murzasichle, Zakopane i Bukowinę. W samochodzie pichciliśmy sobie świąteczne potrawy. Umilała nam czas muzyka, filmy na laptopie i świecące cotton balls'y. Raz po raz wychodziłem do rozstawionego już sprzętu realizując kolejne strzały, które doprowadzały mnie coraz bliżej do finalnego ujęcia fajerwerków o północy.
Ważną rzeczą przy realizacji zdjęć nocnych jest czołówka wyposażona w czerwone światło. Dla mnie oznacza to mniej inwazyjne działanie światła na matrycę aparatu, gdy operuje się przy sprzęcie. To bardzo istotne. Normalne światło prześwietli zdjęcia, a jak będziesz miał więcej szczęścia, to pozostawi smugi w kadrze i doda wiele godzin dodatkowej zabawy w postprodukcji. Zdecydowanie warto o tym pamiętać. Na moim kanale YouTube możesz zobaczyć moją pracę przy nocnych zdjęciach ubiegłej zimy – właśnie z czerwonym światłem i również w Gliczarowie.
Wreszcie "wszystkie systemy ruszyły". Wybiła godzina 24 i niebo zapaliło się od różnokolorowych eksplozji. Mój aparat wycelowany był w miejscowość Murzasichle. Skupiłem się tylko na tej miejscowości z widokiem na Tatry. Wraz z wybuchem fajerwerków wystrzelił nasz bezalkoholowy szampan. Jedną ręką nalewałem trunek w kieliszki, a drugą realizowałem szybko znikające fajerwerki. Po 10 minutach było po wszystkim.
Nadszedł czas, by usiąć spokojnie w aucie i zjeść kolejną porcję ciepłego bigosu. Z tego wszystkiego człowiek zapomniał, że jest tak zimno.
Niestety niewiele czasu było mi dane cieszyć się ciepłym posłaniem na tyłach mojego samochodu. Była godzina 00:10, a nasz wzrok coraz bardziej przykuwał słup ognia rosnący gdzieś w dole w miejscowości Murzasichle. Po chwili już wiedzieliśmy, co to jest. Wybiegłem z auta, zamocowałem na kamerze teleobiektyw i podniosłem w powietrze drona. W krajowych serwisach informacyjnych mogliście oglądać moje nagrania przedstawiające zmagania wielu zastępów Straży Pożarnej z dławiącym drewniane domostwo ogniem. Wiadomo co było powodem pożaru…
Mimo, że nie jestem fanem fajerwerków ze względu na zwierzęta, czy zagrożenie pożarowe, to widok był spektakularny.
Odjechaliśmy stamtąd z mieszanymi uczuciami. Uważam, że w efekcie pokazy laserowe byłyby równie piękne.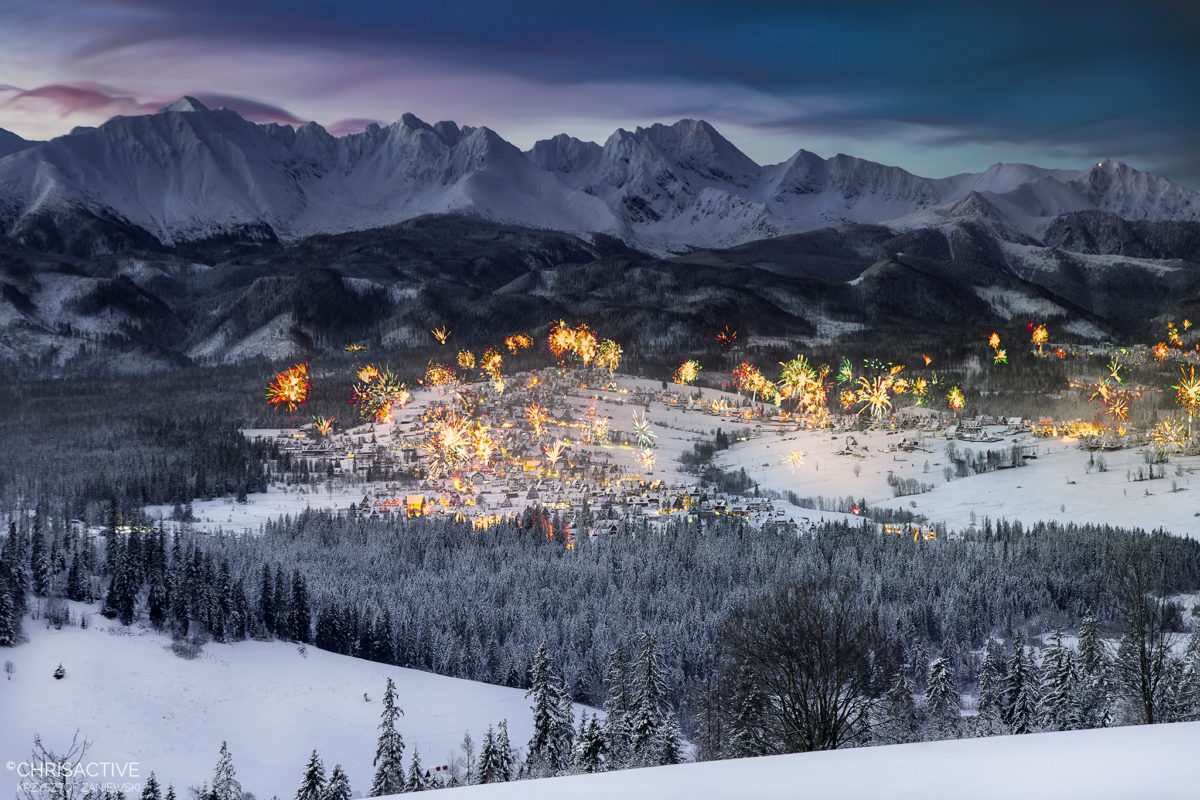 ---